About Us
Matandy Steel is a family owned and operated steel service center. We are an industry leader in the distribution of low carbon, flat roll steel products in coil, sheets and blanks. Many businesses, corporations, and industries rely on us to process steel, including automotive, lawn and garden, construction, hardware, office furniture, appliance, agriculture and HVAC industries.
Our strength isn't just in our steel – it's in our people. We understand that your company's success, growth, and profitability is measured by how well we respond to your needs. That's why we pride ourselves in our ability to execute quality, service and competitive prices.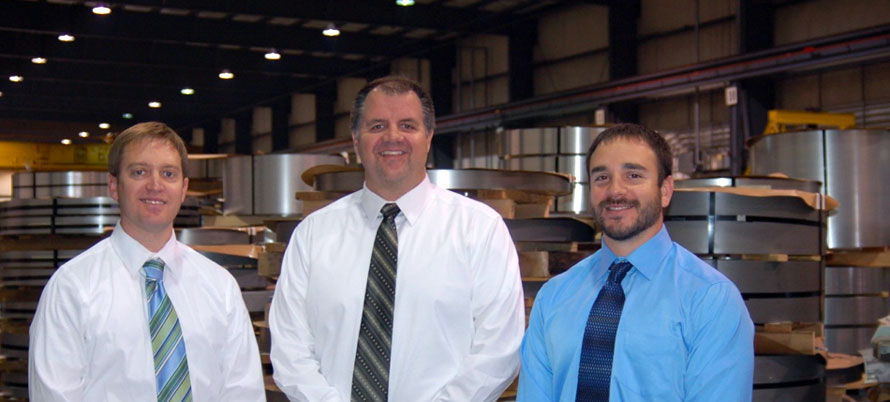 (left to right) Matt Pfirman , Andrew Schuster – President , Andy Pfirman

Small Beginnings & Fast, Steady Growth
In August of 1987, Frank Pfirman founded Matandy Steel. The company was named after his two sons, Matt and Andy. Starting out with just a small sales office and relying on outside processors, Matandy Steel is now on over 10 acres of land in the heart of Hamilton, OH.
Matandy Today
Over twenty-five years and 120 employees later, Matandy Steel is still growing. With the continuous addition of state-of-the-art equipment and extraordinary employees, we consistently provide the best quality and service to our customers. We are proud to be an ISO 9001 :2008 certified supplier (valid through September 2018).
Matandy Steel cares about our community and helps by strengthening it in many ways. We are a member of the Hamilton Chamber of Commerce, Cincinnati Chamber of Commerce and the Association of Steel Distributors. We support several local Adopt-A-School programs, and contribute to many athletic, social and community organizations.